Whether you've done an exhibition before or it's your first time, there are some fundamental basics to creating a good exhibition display that require a few specialist pieces of equipment. Not preparing for an exhibition can be a disaster so take a look at our must-have equipment list to help you stand out from the competition and enjoy a successful event.
Choosing to include a counter in your exhibition setup is incredibly useful and can provide a focal point for your stand. Visitors will also feel comfortable when talking to someone if there is something between them and your salesperson.
If you're looking to collect information, register people or provide a prize giveaway, a freestanding iPad holder is a great solution and will allow your guests to directly input their details. This also saves time and administrative work at a later date.
A banner stand is a basic fundamental for any exhibition, tradeshow or event. Without one, it's going to be difficult for visitors to understand who you are and what you do. Considering a banner stand is fairly inexpensive, it's a small price to pay for that perfectly branded message.
No exhibition stand would be complete without a backdrop. It's not enough to simply provide a few banner stands, you need to create a clear message about who you are, what you do and how you can help. An identifiable backdrop is the best way to do this and allows your banner to be more minimalistic with the necessary information spread across multiple signs.
If you're looking to really stand out from the crowd and catch the eye of passers-by then buying a portable flag is a great choice and makes you easily identifiable in a crowd. Because of their versatility, portable flags can be used at any kind of event both indoor and outdoor, and also outside the front of your business when you're not exhibiting at events.
Brochure stands are a staple to any exhibition kit and provide visitors with the ability to collect information about who you are without having to stop and talk. For some people, this a preferable way of doing their research, whilst others will want to stop and talk, but will also want to take away some information about you. Considering they'll be speaking to hundreds of people in the same few hours, providing them with a takeaway brochure is a great way for you to be remembered.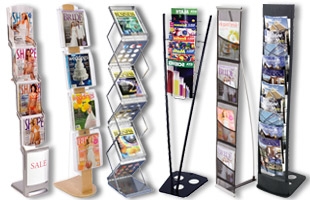 If you're choosing to use a standard table, a branded table cloth is ideal for making you stand out and can work wonders in providing a little more professionalism to your stand, especially compared to those who choose to not use a table cloth.
It may be that you have a particularly complex product, or that you offer consultancy work and so it can become uncomfortable for guests to be on their feet the whole time whilst you talk. Offering seats will not only encourage people to visit you but it allows you some quality one-to-one time with a prospective customer.