Advertising with LED Light Boxes
Everything you have to offer a potential customer should be visible in your signage. People can tell a lot about your business based on the products and offers you choose to advertise, and external and internal signage are a great way to keep your customer base well-informed. It's widely accepted that one of the most effective advertising mediums available today is the light box display. A non-illuminated poster or sign will do far less to promote your business than a promotional poster or corporate sign presented in a display light box, which uses a combination of colour and light to catch a potential customer's eye.
This is the only way for your signage to have its full effect.
To learn everything there is to know about indoor and outdoor signage products, keep reading! Light boxes can be used both indoors and out, allowing your business premises to make the most of its all-important signage. They allow your promotional materials to work to their full potential, providing two types of signage that serve two different purposes, all using the same tool. Signage products that are suitable for both interior and exterior use are rare, which is what makes LED light boxes so special.
How Do We Know LED Light Boxes Work?
Convincing people outside your business that coming inside is the right choice for them is the main job of exterior signage products. There's little worse than not being able to see a menu without going inside and speaking to a member of staff, after all, and checking if you want to eat in the restaurant that's caught your eye is much easier when the outdoor signage is clear and informative.
Compared to non-illuminated advertising, market research has shown that illuminated advertising – as is offered by light boxes – offers a significant increase in sales, draws in more customers and enables quicker customer processing.
Some success stories include…
Santander (formerly Abbey Banks) promoted their financial products using light boxes, and saw a sales increase of over 30%. This was achieved by advertising to both prospective customers outside and existing customers inside the bank using double-sided light boxes in the windows and single-sided light boxes on the walls.


JD Sports used light boxes to ensure visibility to audiences entering the Trafford Centre, drive awareness and present new product offers. Their illuminated advertising allowed them to run a continuous campaign throughout the year and ensured visual dominance and an increased footfall.


Boots reduced the time that customers spent at their digital photo counters by 3 to 4 times simply by replacing their non-illuminated menu signage displaying services and prices with bespoke illuminated menu light box displays.
Should I Use Fluorescent or LED Lighting?
Signs traditionally use fluorescent lighting for illuminated advertising. However, LED light boxes are a more advanced form of light box technology, and generally provide a better way to market your business in a physical space. Here's what you need to take into consideration when choosing between fluorescent and LED lighting.
1. Power Consumption
Fluorescent lighting uses way more energy than LEDs (light emitting diodes). LEDs can produce even stronger lighting while using only a fraction of the electricity required to power fluorescent lights.
The size and shape of fluorescent lights drastically affects their energy efficiency. The overall cost of installation becomes higher if you want your fluorescent light box to produce specific colours, as colour filters will need to be added. If you opt for LED lights, you won't have to worry about power consumption when choosing your light box design.
If you want to keep your electricity bill as low as possible and still leave your light box on for as long as your business is open, it makes more sense to use LED light boxes.
Allow potential customers to get a better idea of what it is you offer before they enter your business by presenting them with an LED light box display.
2. Life Expectancy
You can expect to use your LED light box for as long as around 35,000 to 50,000 hours. That drops to around 10,000 to 15,000 hours with the average fluorescent light. In order for these light boxes to last the same amount of time, LED lights can be left with little to know maintenance, while fluorescent lights will have to be constantly swapped out with new ones.
Your LED light box will very gradually get dimmer when the lights start to fail. However, when fluorescent lights hit their usage limit, they will generally just go out abruptly. While you shop for a replacement light for your LED light box, you can still use it – it just won't be working to full capacity. A fluorescent light box won't light up again until the bulb inside is replaced.
The increased shock-resistance of LED lights also improves their durability. The main purpose of exterior signage is to advertise your business and draw new customers in. There's a real possibility that your light box will be hit or knocked against as it will most likely be on display in a space where it will come into contact with people. You need to make sure your light box can withstand this. Unlike their relatively fragile fluorescent equivalents, LED lights can absorb most impacts.
Showcasing your displays to customers can become a struggle as the days get shorter and the nights get darker. Potential customers aren't often willing to put in a lot of effort to find out what it is you do, so it's important to find a way around this. Difficult to see displays can mean that you'll miss out. Potential customers may be more likely to enter your establishment if you have strong external signage, like a good light box display, as this allows you to tempt new customers with your range of offers.
Outdoor signage products are often larger in size than indoor products, so an outdoor light box needs to be lit with the most effective and economical lighting option available.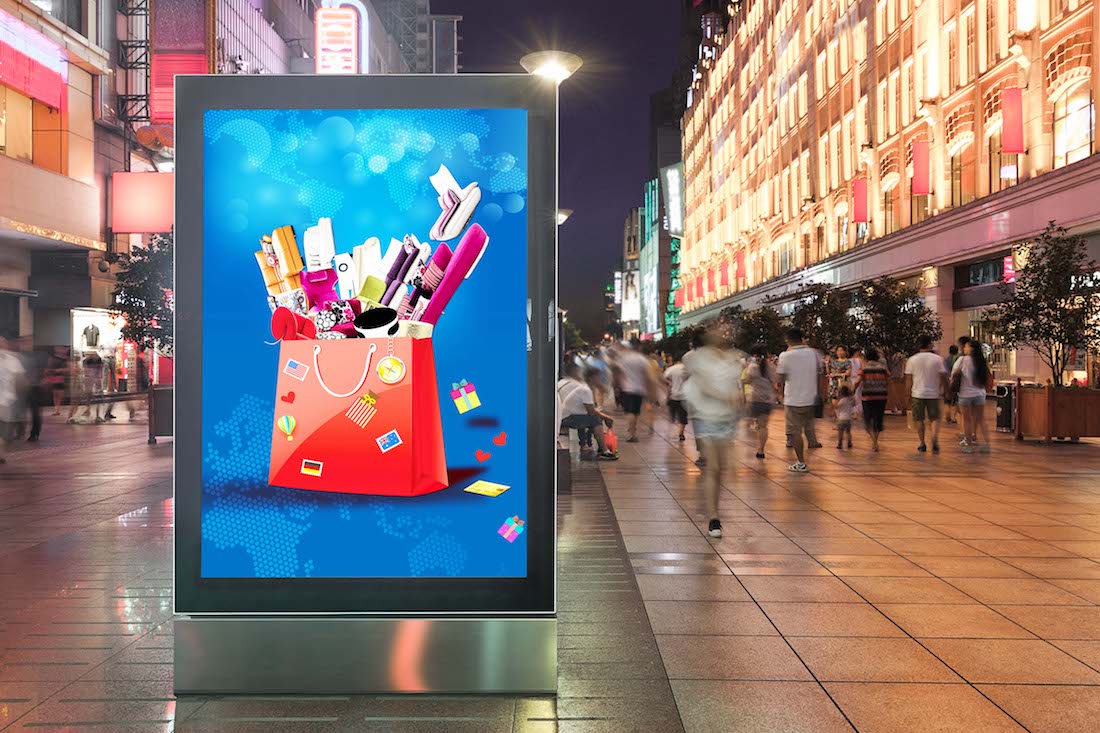 Read more: Signage – Inside or Outside?
3. Environmental Impact
Of course, a company's brand is more than just a quirky logo and a few images. For a more environmentally friendly business operation, opt for a light box that consumes less electricity, as this will result in a lower carbon footprint. Without sacrificing the output and appearance of your advertising efforts, LED light boxes can keep your carbon footprint nice and small. This means you can accomplish social responsibilities at the same time as making your business more sustainable on a practical level.
There are also safety risks that need to be considered when using fluorescent light tubes which contain mercury and other heavy metals. You create more pollution and waste every time you replace a broken or spent fluorescent light box. Ecological concerns are easier to manage when you replace fluorescent lights with LED light boxes, which will positively affect your bottom line while meeting public expectations.
Light Box Displays
All LED displays backlight whatever poster or advertisement you have on display, making them stand out at all times. By upgrading to LED displays, you can ensure that your POS is seen at all times. In the windy, dim and wet evenings we're used to in the UK, many signage options become difficult to see. This is a problem you can avoid with LED displays. You're sure to find the ideal display for you, as there are a number of different types of LED displays available.
Read more: Top POS Trends for Autumn 2018
4. Versatility
Fluorescent light boxes often have fewer potential uses than LED light boxes, as they come with certain form limitations and are slightly larger than LEDs. An LED light box can often be much thinner than a fluorescent version. This means that space you want to use for other purposes like product display and foot traffic doesn't need to be taken up by light boxes. They also offer an elegant aesthetic and are perfect for a modern workplace.
You don't need to worry about damage being caused to your LED light boxes, as they're tough enough to be displayed outside your store. Highlighting the front of your business establishment and enticing passers-by to come in will be much easier with a creative, attractive LED light box.
Even if those potential customers don't end up entering your store, you can use a light box to display content from your digital spaces (such as events on your social media accounts or discounts on your web store) so engagement can still take place.
Signage Products and Branding for Your Business
Helping people to recognise your business immediately is the primary reason for using branded signage. The key is to create branding combined with signage that elicits an emotional response in potential and existing customers. It forms a sort of shorthand that highlights your values and everything your business stands for.
Branded signage makes the location of your business clear to potential customers. Companies might use a product such as a pavement sign to attract attention, but a light box display has the advantage of being visible 24/7.


There's more to signage than branding. Indoors, a light box could be used to point the way to the toilets or display your business opening hours. Even if these signs aren't advertising anything, they can still promote your company message.


If you like to change your promotions from time to time, products like LED light boxes are perfect for you. You just have to set up the light box, and then you can change the information it displays as often as you like.


There's a wide variety of different signage products that you can choose from including portable flagpoles and banners and even light-box displays that can brighten up corners of your business premises.


Signage can also be used to send specific messages. Maybe you're a bar or restaurant and you want to reveal the dishes of the day to passing traffic. Perhaps you run a store and have a sale on and want something bright and cheerful out on the street to attract attention.
Read more: Why Signage Is a Key Part of Your Business Branding
Where Should I Use My LED Light Box?
The following are just a few of the sign, promotional and display applications in which LED light boxes have proven to be extremely successful:
Displays at your store's check-out.
Advertising outside of your business.
Timetable display point, or notice board in train stations.
Displaying your eatery's booking information and menus.
Tradeshows and conferences.
Showroom information and promotional displays.
Nightclub, pub, and bar promotions.
Airport signage and displays for duty-free shops and lounges.
Corporate signs for business premises.
You can advertise to customers both inside and outside your business if you invest in a double-sided LED light box or place two light boxes back-to-back. These window displays are a great way to boost your visibility. Light-boxes work really well in larger areas like department stores and shopping centres, and are the best way to bring your promotional message to your target audience.
Bring Your Business into the Twenty-First Century
Helping to drive significantly more sales, illuminated signs and displays are able to grab way more attention from customers than standard signs and posters. If you're looking to boost sales revenue or footfall for your company, a light box would be a wise investment. For increased flexibility and environmental friendliness, be sure to opt for an LED light box over a fluorescent version.
If you liked this blog, you may also be interested in these:
How to Leverage Your Light Box Display into Success
The Best Menu Displays for Restaurants
When Darkness Falls, Let There Be a Light Box
Shop here: