Branding with Flag Banners
One of the most successful ways of influencing how your company's core values are perceived by your target client group and other companies, promoting your services and products and spreading your brand is to set up a flag banner. At Red17, we're known for supplying quality branded flag banners, portable flagpoles, banner flagpoles, wall-mounted flags and flag accessories.
We are a trusted UK-based supplier, and have established ourselves as a company that can provide banners and other branded products reliably, affordably and quickly.
Our collection of flags and flagpoles could be just what you're looking for, whether you want to stand out from the crowd, draw people to an event or extend your branding. With low prices and free delivery, you can order your new flag today by choosing from a variety of designs and sizes and uploading your own artwork or design.
Getting Noticed at Events
Whether you're planning your first event appearance or have already attended many events with your business to find new customers and grow your network, it's always a good time to think of new ways to stand out from the crowd and make your company the talk of the venue.
It's vital that you know what to do to make people visit your stand instead of your competitor's, as lots of businesses will be attending your event with the same goal as you.
Making sure that everyone knows what your business is and what you do is the most important thing you can do to encourage people to come to your stand. Portable banner flag poles offer the perfect way to do this, as they give your stand powerful branding that gives people the information they need as well as attracting attention.
You can create a highly professional image and help potential customers find your stand by displaying flag poles that hold your brand message, logo and colours. They'll help people to remember you and your business, especially if they display the same branding as your other promotional materials.
Your flag banners will be easy to store and transport, so they're easy to take down, put away, and set up for the next event. They're the perfect investment because you can use them at any event you like.
The following tips are also great ways to promote your brand at an event:
Mingling and Talking. As daunting as it may be, you need to talk to people and sell your business if you want this to be a successful event.


Consider offering freebies. Everyone loves free stuff! If people hear you're giving away pens, key-rings or sweets, they're more likely to come to your stand. If those items are branded, these people will remember your business every time they use them!


Read more: Portable Banner Flag Poles and Other Ways to Get Noticed at Events
Outdoor or Indoor?
There are a whole range of possibilities for your flag banner, so you shouldn't just limit yourself to displaying one in your office or business location! While they look great indoors, you can also use them outside thanks to the quality of the materials they're made from.
A good banner will save you money by lasting a long time without needing replaced. Ours are all durable enough for a range of uses, whether you need to put them up and take them down every few days, or are planning to leave them up for a long period of time without moving it.
If you only need your flag banner up for a day or two, don't worry! They're super-simple to put up and take down, so don't worry about wasting time on setup. You'll be able to focus on your business and event, and let us worry about the banners.
Using Portable Flag Poles to Promote Your Brand
In the modern world of commerce, it's more important and more difficult than ever to make a business stand out from the crowd. Portable flag poles are a great investment if you want to grab people's attention and get your brand out there.
In today's competitive marketplace, branding and clear signage are vital. You need to make sure you have something you can display easily and move when you need it, whether you're attending a local trade show or event or just signposting your high street store.
Businesses today are becoming increasingly reliant on flexibility. We need branded signs that we can easily lift up and move from A to B, not ones that are stuck in one place forever. That's why portable flag poles are so useful.
Read more: Using Portable Flag Poles to Promote Your Brand
The Inexpensive Option
As a general rule of thumb, production costs increase the more advanced a marketing method is. Using flag banners is still one of the cheapest methods out there, while other forms of advertising become more and more expensive. Red17 offer low prices on many different types of flag banner, and free delivery to help you save even more money.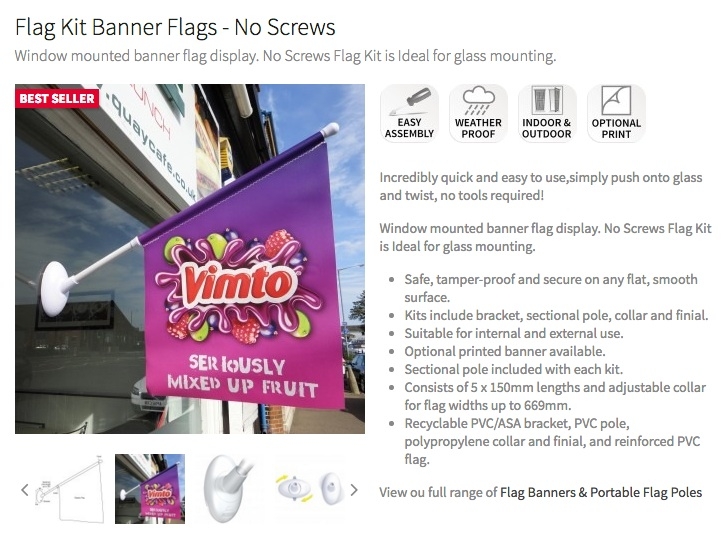 Flag Banners 4 Ways
So we know that flag banners are the perfect way to spread your brand, but there's still one more choice to make: Which flag to choose? To inspire your marketing, here are our four favourite flag ideas.
Flags on the Go
A mobile flag can be incredibly effective, whether you have a handful of ambassadors walking an event or are sending someone out on a daily basis to promote your business on the high street.
Light Up Your Life
Lamp post flags are perfect for advertisements placed on the side of roads or in pedestrian areas.
Go Big or Go Home
Corporate flags can be used in all the same ways as a roller banner, but are more versatile. They can be used outdoors as well as indoors, and their waving motion is sure to catch someone's eye!
Repetition, Repetition, Repetition
Similar to going big, you could also choose to make a statement by setting up several smaller flags. Whether these flags say the same thing or something different is up to you!
Read more: 4 Great Corporate Flags for Marketing Ideas
Shop here: