How to Design a Menu that Grabs Attention
When you own or manage a restaurant, you need your customers to see the best that your menu has to offer. You and your head chef have crafted a menu of house specialties and delicious dishes that are sure to get their taste buds excited. That is, as long as they peruse the menu for long enough to actually see them!
It is no secret that there is a fine art to designing the perfect menu. Ideally, you want a menu to catch their attention, stoke their appetite, and interest their intellect – not to mention their pocketbook. The specific price point, style of cuisine, clientele, and atmosphere that you are cultivating will all affect the style and design of your menu.
One word to the wise – beware the 'phonebook' menu! Aside from a very few types of cuisine (American chain restaurants and curry houses come to mind), no one wants to be confronted by a massive, overwhelming menu. It is better to choose a select few stand out dishes rather than throw the kitchen sink at your menu!
We have compiled some of the most important points and tips to consider when you are designing your menu.
Will Your Menu Be Placed in a Menu Display Case?
We will come back to this question again towards the end of this article, but it is also a good place to start. Before you start planning the look, feel and layout of your menu, it pays to have a think about whether you plan to display it in a menu display case. If you do plan to use a menu light box or menu display case, make sure that your menu features bold, easy to read fonts and clear graphics. This will make things easier to read through glass, or from a distance.
Read more: 7 Great Ways to Display Your Menu
What is the best layout to use on a menu?
Let's be honest – unless you are going for a truly minimalist foodie menu, printed daily on artisanal paper, creating a great menu design takes a lot more than just printing out your dishes on a word processor.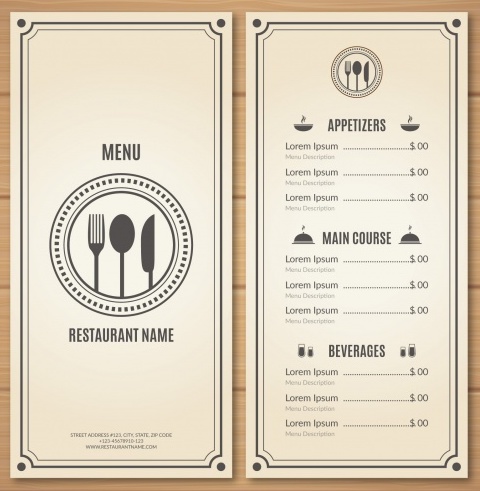 There are some effective templates online, but they can look like exactly that – templates that you found online. If you want your menu to look and feel as unique as your restaurant, you should consider hiring a professional designer. They can create a bespoke design that speaks to your food, your mission statement, your clientele, and your overall interior decor.
Should you break your menu into different sections?
Most menus, no matter the cuisine, break their offerings down into a series of different sections. This can be as simple as 'small plates' and 'big plates.' When you arrange things into different sections, it allows diners to assess their size, price, and the order in which they should be eaten. This is commonly broken down into starters, mains, and desserts, but can also include bar snacks, sharing platters, cheese courses, and other courses unique to your cuisine.
More and more, restaurants are separating their vegan/vegetarian offerings and their gluten free dishes into their own categories. You could also consider printing separate menus available on demand for diners with these dietary requirements.
Should you laminate your menu?
If you are going for a foodie vibe, your menu should be understated, printed on quality paper, and changed on a regular basis to reflect fresh, seasonal ingredients. Alternatively, if you have a classic menu that stands the test of time and does not change, you can go for something more permanent, and even have it laminated.
Laminated menus represent a higher initial investment, but they can be wiped down and reused for a long period of time. However, if you want to change prices, ingredients, availability, or stock levels, it is impossible without looking unprofessional and crossing things out.
A menu freshly printed each day can be an extra outlay of time, effort, and regular printing costs, but it allows you to reflect inventory, add specials, remove poor sellers, and adjust prices at will.
Which fonts and colours encourage customers to order?
When it comes to choosing colours and fonts, they should really reflect and mirror the theme and feel of your restaurant. A chef-driven foodie restaurant would likely benefit from a neutral colour palette and a hipster-y typewriter font. A family friendly café would probably be better suited to bright colours, vibrant design, and a playful font.
The most important thing is consistency across your branding and menu. Remember – don't use too many fonts – one or two is usually ideal. If you have any questions, ask your designer for input.
Read more: 10 Fonts Your Business Needs to Avoid
Why it pays to have a professional writer look over your menu
While you and your chef know how to craft and sell great food, are either of you professional writers? If the answer is no, you need to enlist one. A professional writer can do a lot of very valuable things for your menu, including giving it a thorough proofread. They will ensure that there are no errors, spelling mistakes, grammatical problems, or syntax issues anywhere on your menu.
They can also help you to craft enticing descriptions from your menu offerings. What sounds better: "Cheeseburger" or "Hand cut sirloin beef burger topped with Neal's Yard Red Leicester, crispy fried onions, gherkin remoulade, and a house-made ketchup"? I'd order the second option! A writer can help you make your menu more attractive to any diner.
Should you display photos of your menu items?
There are definitely 2 schools of thought (or more!) when it comes to whether a successful menu should include photos of the dishes listed. This is a tactic that one usually sees in restaurant menus abroad, especially in tourist destinations. After all, in these cases diners are coming from around the world with a variety of native tongues. They may not easily be able to understand or recognise the names of certain dishes or ingredients. The easy solution? Photos!
While this can be a solid plan from a logistical point of view, it knocks your sophistication rating down quite a few pegs. If you are trying to attract a fine dining (or even a mid-range dining) crowd, this is really a no no. It can be seen as tacky and off-putting by that clientele.
That said, if you are trying to communicate your menu clearly across a variety of languages and cultures, it can be a good strategy. Just make sure that all of your photos are high quality and taken in attractive lighting – this really makes all the difference in the world.
When Is a Menu Light Box a Good Idea?
If you have a lot of potential customers walking past your restaurant, pub, or café, it is a good idea to catch their attention with a menu light box. This is an affordable and effective way to showcase your offerings and get mouths watering.
An illuminated menu display case shows off what you serve in a clear and brightly lit way. People walking past can glean all relevant information as they stroll past, and you can entice them with your delicious food and drink. They also allow you to change menus as often as you need, which is particularly useful for a restaurant with a fresh, seasonal ethos.
Of course, printing and displaying a menu in a public place comes at a cost – printing materials takes time, effort, and a chunk of your budget. You don't want these efforts to have been for naught when a vandal tears it down or inclement weather rips it from the wall. A menu box is lockable and secure, preventing criminals from destroying them, and the wind from wreaking havoc. This saves you time, headache, hassle, and money.
Menu display cases are also quite versatile, as they can be used both indoors and outdoors. Want to repurpose them? You can swap out your menu and replace it with any other signage you wish to display.
Menu Design is More Important that Meets The Eye
As you can see, there is a lot more than meets the eye when it comes to designing a successful menu, and even more to consider when displaying it. If you have any questions or ideas about how you want your menu displayed, do not hesitate to get in touch. Our Red17 team is happy to help you with ideas and suggestions for how to best display your menu and get diners streaming into your restaurant.
Read more: 12 Cool Outdoor Menu Ideas for Any Restaurant
Shop here: