Promoting all year with flags
Flags and banners aren't just great summer tools, you can promote all year round with your own bespoke designs. Summer is the best time of year for portable outdoor flags, of course, but for businesses with the ability to affix their flag in place, there's nothing stopping you from advertising 365 days a year.
Flags that stay in place
For flags that won't be knocked over by a strong gust of wind, you'll want a flag that can be mounted on a wall or screwed in place. Many flag kits offer the exact items you need to fix your flag to a brick wall, including a bracket, pole, collar, and a finial. These flags and their assets are weatherproof, and many companies will offer to print your graphic for you. At Red17, we certainly have this service, but we cannot speak for other flag and banner producers.
A Red17 flag kit includes a tapered socket that ensures excellent grip and prevents the accidental loss of your graphics flag in windy conditions. They're suitable for indoor and outdoor use, and it's very easy to assemble them. The whole kit is made from durable, weatherproof materials; ensuring that your flag will stay put, no matter where you decide to place it.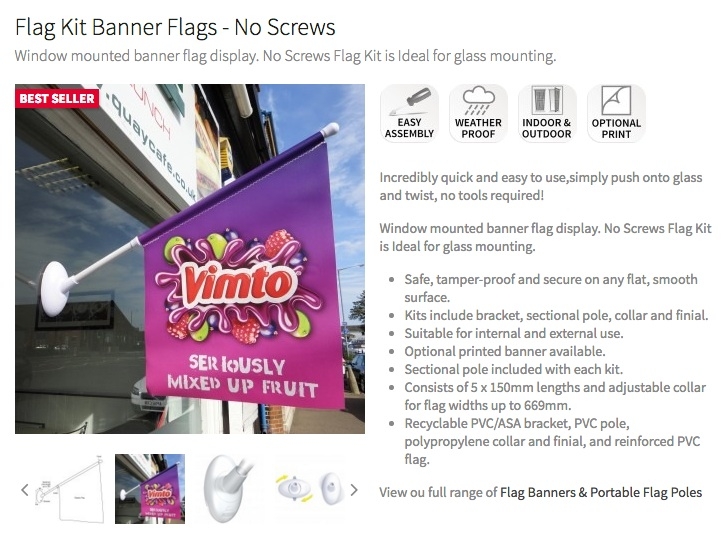 If you don't have the space or capability to fix a flag to your business' exterior walls, think about asking permission from your local council to put a banner up on the nearest lamppost. These lamppost banners are sturdy, and the look very impressive. Lampposts are the property of the local council, so you should always reach out to them first before displaying one. Lamppost banners are a cost-effective way of advertising, and they can also be fixed to walls if you just prefer a larger banner than the flag kit offers. The brackets of this banner can be moved to adjust the height of your graphic.
Portable flags
If not a fixed flag, which can be used every day, a portable flag is great to put down for sunny days and bring back in at the end of each day. Portable flags are as weatherproof as their fixed counterparts, but they're better for businesses without the space or capability to put up a flag or banner.
All of our flags at Red17 are weatherproof, so even our portable flags are suitable for putting outside when it's raining. If it gets too windy, your flag won't fly away thanks to the design of our flag poles, but you may want to invest in a weighted ring or base for them.
Why advertise all year
Advertising all year means that your business can continuously promote its services with its flag graphics, no matter the season, no matter the weather. Advertising with flags and banners is cost-effective, creative, and extremely eye-catching for passers-by. Make the most of the space your business inhabits by putting up a few flags to flutter in the wind.
Read more: Why more businesses are using promotional flags to get noticed
Shop here: