What Your School Classroom Needs to be the Perfect Learning Environment
At the beginning of a new term, students will walk into the classroom feeling a wide range of emotions. They'll be excited to make new friends, sad to be saying goodbye to summer, happy to see a few familiar faces and anxious about fitting in. Students who enter the room ready to learn will also be curious to see what they'll be studying, and how you'll be making that happen.
How and what you teach will come down to the syllabus you're given, but you'll still get to make it personal by coming up with your own lesson plans and activities. The materials and tools you have access to will also play a major rule. Making the Most of Summer Break
A quintessential summer experience for students and teachers alike is a few months spent lying in, taking trips, meeting with family and friends and generally working to recharge after another busy school year.
The school won't necessarily be lying empty for all of this time, though! Many schools use this free time as an opportunity to refresh and revamp the premises, making it a better learning environment for the lucky students and teachers coming back in September.
Building a Culture of Happy Learners
In the classroom, your students will start establishing their own little community from the very first day. In this social learning environment, unspoken concepts of accountability, importance and acceptance will start to grow without anyone even realising it. If you're able to identify it early on, it's possible to steer this sense of community towards a mutual mission of education and enrichment.
Put simply, things like goals, achievements and acknowledgement can go a long way. If you post news of a student's accomplishments on school notice boards, you tell them that they're valued. Try encouraging your pupils to tell you about the sports and pastimes they keep outside of class, and to bring in any news clippings, certificates or photos they have. This is a fun way to make your classroom or school a space that's personal to the students, and will remind them that taking an interest and caring about things is a worthwhile activity.
As all the important information related to classroom prospects and school events are pinned to it, the school notice board plays a very important role. If used in the right manner, it can prove to be an effective learning tool. Make your notice board appealing to your students by following the tips in our post on using notice boards in schools.
At any school or educational facility, fire safety is one of the number one concerns. Many schools are now investing in fire-resistant notice boards so that they can benefit from a notice board that won't be badly affected by accidental fire damage or flames.
Magnetic whiteboards have quickly become popular amongst many students and teachers alike, and at this stage have been brought into use by every school. For the students who read from them and the teachers who write on them, their functional use and smooth surface comes in handy for all subjects. Learning can be fun, and whiteboards make that fun possible.
Getting Organised
You and your students will get nothing done if your classroom is a mess. If there isn't enough storage available, do not be afraid to request extra shelves, trolleys, hooks or whatever else you need to get things in order. Things like mobile organiser carts, trolleys and plastic drawers are inexpensive and can really help you get things in order.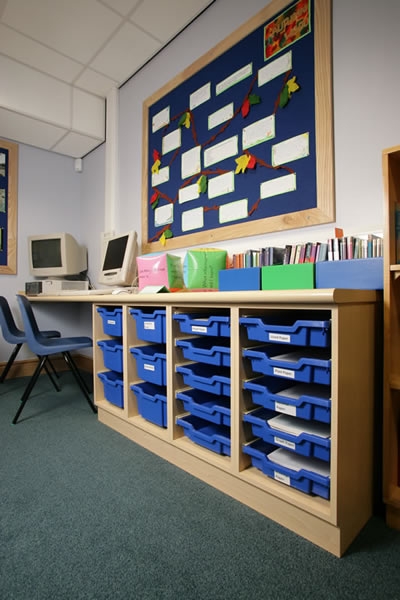 Jazz Up Your Library Corner!:
If you want to encourage your students to get reading, try selecting a handful of books each week and creating a display. This can help kids who struggle when it comes to choosing which book they want to read, and might draw attention to books your pupils didn't even know were available. .
Wall-mounted and freestanding brochure stands are perfect for creating library displays, and there are loads of different designs out there to choose from. You can read more about brochure stands here!
Pinning Down the Basics
Scissors, colouring pencils, crayons, paper, index cards, notebooks, erasers, copy books, folders, poster board, tape, markers and pens. Before school starts, sit down and make a list of every little thing you'll need in the classroom – it's always the most obvious things that you leave out!
Taking Out the Trash
It's most likely that your classroom came with its own bin, but it's often a good idea to get a few spares so you can put them around the room. Students will have different places to dispose of their rubbish if you have multiple bins. This means students can throw away their rubbish in the nearest bin, rather than walking around the room, chatting with friends, or even leaving their mess hidden around the room. A tidy classroom is a happy classroom!
Making the Rules
You are the teacher, and you make the rules. It's really important that you make these rules clear from the very first day of class. A nice way to establish the classroom rules is to encourage your class to work with you to create a set of rules, behaviours and attitudes. It's a good idea to keep this list only around five rules long so that your pupils can easily remember it.
Making It Your Own
If you want to give your students the recognition they deserve, it's a great idea to decorate the classroom walls with their artwork. Make sure you have all the supplies you need to hang and display your students' projects, and all the tools they'll need to get creative. You'll find ideas for potential classroom art projects all over the internet, so get searching. Websites like Pinterest can be really helpful here.
Students are expected to take in and remember a lot of information, and posters are a great way to share that information and help your students to memorise key facts. With the majority of students tending to be more responsive to visual information rather than audio or text (especially in the younger year groups when reading skills might not be fully developed just yet), creating an eye-catching poster works very well to capture a pupil's attention and deliver a message.